Exhibitions: 2016
―
WE ARE DEPENDING HANGING STANDING HANG IN HANG OUT HANG LOOSE LUCKY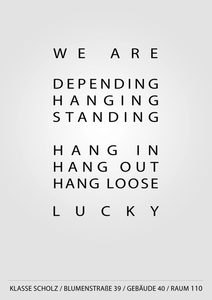 Text by Anna Bauer / Translation by Xaert Pretorius

What is it that brings together a group show if there is no common concern?Restrained emptiness, transparency and monochrome simplicity for one thing. A loud, garish presence, density and directness for another.

The all-integrating spatial feature may strike the eye only on second glance: Thin copper pipes partly serve as supports or mounting, occasionally though, a functionless addition of piping may be found next to an art object. They provide the searching eye with recognizable anchor points throughout the space, as well as a continuous structure.

Another connecting element is formed by various painterly traces on parts of the wall between the art works. They are remnants of a performance piece, where the previously instructed performers had carried out numerous activities that were partly directed at a recognizable outcome and that partly seemed simply to be an end in itself. Is it then about a collaborative procedure for producing paintings on walls and objects or is it about a timed choreography of which only its residue is to be seen?

Similarly undecided, an appropriated poem serves as exhibition title. It was passed along and anonymously modified by all the participants, so that in the end all the individual contributions have become indecipherable.

Substantially, the textual fragment that has resulted out of this process signifies everything and nothing at the same time. It can therefore be read as a performative answer to the questions of a singular or collective authorship, of set structures or arbitrariness within a group dynamic, of discrepancy or unity within a group show. That is, if there is no common concern.


With works by Raphael Aumann, Tilman Berrer, Judith Crasser, Christopher Gerberding, Jan Gerngroß, Mia Gilbert, Kolja Gollub, Alicia Haas, Hannah Hofferberth, Tarik Kentouche, Sascha Kregel, Daniel Kuge, Lorenz Liebig, Elisabeth Lieder, Xaert Pretorius, Stella von Rohden, David Jonas Schoeneberg, Malte Taffner, Till Terschüren und George Wills.

Fotos: Malte Taffner