The monad, battle on the astral plane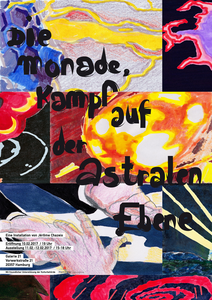 Jérôme Chazeix
"The monad, battle on the astral plane"
Video loop with music, installation.
The animated film "The monad, battle on the astral plane", (2009- 2014, 4 min. 31 sec., Three times repeated in a 13 min. 32 sec. HD video loop with music), consists of approximately 4800 individual drawings.
A musical and colorful environment blends with language and electronic sounds to a Gesamtkunstwerk together in which to find elements of space, science fiction and anime are, and form a dialogue about the human being as pure cosmic energy. It explodes, pulsates, poeticizes and metaphors ... a secret way to explain life. The film is a dense network of relationships forming, at the end of a large-scale Total installation to be expanded. Here, the space forms with the film at the center of the container transforms it to Plato's cave.